Defence Force School of Signals Simpson Barracks, Yallambie, Victoria
Housing and supporting the functions of the Defence Force School of Signals, the project includes 216 self-contained student accommodation units over five-level buildings, two multi-purpose facilities and the refurbishment of existing accommodation.
Master plan concepts to be developed, maximising the utilisation of the existing spaces. Considering the need for an integrated training and living environment.
GHDWoodhead's design team allowed for future stages of development by designing simple building forms that knit into the existing infrastructure, maximising the existing natural and human-made site features.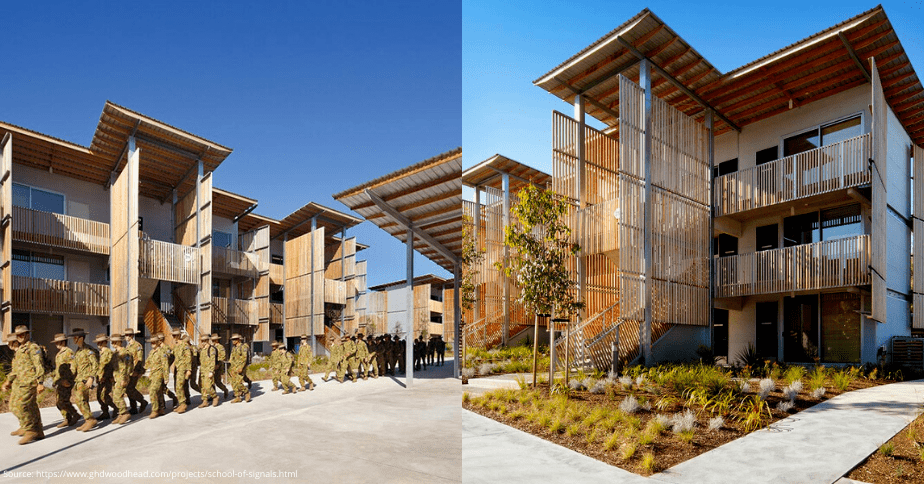 The Living in Accommodation buildings is located in an open area, addressing site ecology and microclimate, seeking to lessen the impact of the built environment and resulting in a healthier place in which to live, work and learn.
CITY
Yallambie
STATE
Victoria
SECTORS
Commercial and Workplace
Defence and National Security
Education and Science
Residential, Retirement and Aged Care
Defence Force School of Signals
Simpson Barracks, Macleod
Melbourne, Victoria
Australia

Cisco Academy, ID 7414
Netacad Courses Offered
CCNA R&S: Introduction to Networks, Introduction to Cybersecurity, Cybersecurity Essentials
IT Essentials: PC Hardware and Software
CCNA R&S: Scaling Networks
CCNA R&S: Routing and Switching Essentials
Partner: CLA – Programming Essentials in C
The $14.8 million contract was awarded to an Indigenous company, National Aboriginal Construction Partnership Projects (NACP). Senator Fawcett said the engagement of NACP as head contractor for the works demonstrated the government's continuous commitment to providing opportunities for Indigenous Australians and Indigenous enterprises.
"The Defence Force School of Signals is the Australian Defence Force's principal communications and information systems and electronic warfare training establishment," Senator Fawcett explained.
"NACP will deliver a new training facility at Simpson Barracks, Watsonia and minor information and communications technology (ICT) works at HMAS Cerberus, Mornington Peninsula."
Construction is scheduled to commence later this month and completion is anticipated by early 2020.
"NACP Projects has developed a local industry capability plan with a target of 85 per cent of sub-contract packages to be awarded to businesses within the Melbourne metro area," Senator Fawcett said. 
The joint venture gives regional and remote communities access to BADGE's national construction capabilities and a suite of services – helping to upskill, develop and provide an opportunity to the local Indigenous workforce across Australia.
Senator Fawcett added, "Local businesses, suppliers and trades would be given an opportunity to be involved in the construction works, including supply of goods and services."
NACP Projects provides a career path for Aboriginal and Torres Strait Islander youths seeking to build a future in the construction industry.